This store requires javascript to be enabled for some features to work correctly.
Anatomy of a night in cocktail
ANATOMY OF A NIGHT IN COCKTAIL
NATURAL JUICE AND FLAVORS
UNIQUE FLAVOR, WITH AN ASIAN TWIST
FEEL GOOD ABOUT YOURSELF
PERFECTLY BALANCED FOR NIGHTS AT HOME
SIP CHILLED, FROM THE BOTTLE
1 BOTTLE = 2 GLASSES OF WINE
Product Features
THE PERFECT PAIRING FOR ANY EVENING
Product Features
THE PERFECT PAIRING FOR ANY EVENING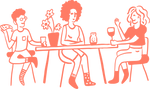 Pour something unexpected
Night In celebrates the ritual of coming home, kicking off your shoes and softly announcing "it's me time now."

So if you go aaaah taking that first sip of a chilled drink as you sink into your favorite chair, then you're in the right place. Care to join us? 


Get to know us
WOMAN OWNED
EXOTIC FLAVORS

SMALL BATCH
excellent alternative

Wine with a kick. The perfect beverage to bring to the park and share with friends (which I did), and an excellent alternative for those who'd like to stay away from the basic b**ch Wh**te Cl**s/RTD beverages.

Royce R.

Dangerously Good

It was so delicious! Easy to drink, dangerously good. Great packaging. Highly Recommend!

Joyce D.

A glass of flowers

Please try it. It's a glass of flowers.

Chris G.