This store requires javascript to be enabled for some features to work correctly.
NIGHT IN IS DESIGNED TO BE YOUR END OF DAY RITUAL, YOUR MONDAY THROUGH THURSDAY JAM.

We wouldn't say that Night In is better than a glass of wine or a fun cocktail… we're simply the best of both. 


Our flavors are bright, our drinks are well crafted and our approach is balanced.  


We encourage the art of the laid-back. 
With each sip of Night In, you'll feel that icky daily stress roll off of you in waves.


Pair Night In with your wildest night or your mildest night, we're just along for the ride.


Cheers
YOU'LL LOVE NIGHT IN IF YOU'RE A
LATE NIGHT CONVERSATIONALIST
TV BINGE WATCHER
GAME NIGHT HOST
SELF-CARE SUPERSTAR
HOUSEPARTY HOPPER
RECOVERING WORKAHOLIC
TOTAL HOMEBODY
FOUNDER
WINE FANATIC, SELF-TAUGHT MIXOLOGIST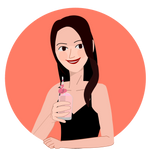 "I love to go out, but more often than not I just want to take it easy - no making plans, no bar surcharges, no mediocre drinks. There's something special about crafting an end of day ritual. To feel tension rolling off in waves as you focus on your wellbeing. Night In is the embodiment of my favorite daily routine: sipping on a delicious beverage in an intimate setting or simply in the comfort of my own home"
IT started with a quest to make the perfectly balanced drink for her wind down routine
Favorite Pairings
When I'm sipping a WHITE WINE COCKTAIL, I love to munch on avocado crab toast. If I'm pouring a RED WINE COCKTAIL, then my go-to is ricotta fig jam toast. Mmmm!

DRINK PHILOSOPHY
Drink on your own terms. There's no right or wrong when it comes to finding your drink of choice, it's all about personal taste.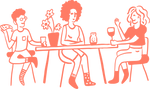 Bar cart essentials
SALT: Add a tiny pinch to your citrusy drinks and feel the magic.


BITTERS: It's like what salt is to food. A few dashes bring out the naturally tangy, succulent flavors of your aperitif. 


GARNISH: The spirit of a cocktail. A simple lemon wedge, a petal from your vase, a string of herbs. A little garnish can lift your spirits too!